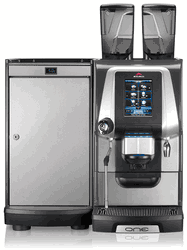 The ONE Touch Top Milk XP NMS has TWO milk input lines for automatic drinks with milk, and it comes with a specially designed refrigerator unit that has two outputs and contains pumps and independent temperature controls.
Unlike a standard milk refrigerator (which relies on the suctioning of milk), this refrigerator unit contains pumps that give you precise pressure and control, and the milk lines allow you to regulate the input temperature of milk from each line.
The standard machine DOES NOT have a steam wand, although the steam wand can be added for an additional fee. The basic features of the Top Milk XP NMS are:
23.75" Wide (Including Fridge) X 22.5" Deep X 30.5" High
TWO Milk Input Lines
Milk refrigerator with pressurized pumps, 2 outputs, and temperature control
Can program up to 16 different drinks
220 Volts for ONE Touch + 110 Volts for Fridge
6.6 KWatts
190 lbs. including Fridge
The ONE Touch Top Milk has an advanced user interface with a 5.7" touchscreen full-color graphic display. The easy-to use user interface guides the operator through the choice of products. The color multipage system enables the staff to choose from 16 products, each one with its own attractive user-friendly icon.
Visuals help the user to constantly monitor the machine's status by displaying which drinks are being served, the drinks queue, the serving progress, and the status of the machine. Text messages are also included with the machine's reporting system. The technical menu (with restricted access) offers the machine administrator a wide range of additional functions, such as precisely defining the ingredients of each individual drink, creating new drinks, checking the machine consumption, running diagnostic checks, and regularly cleaning the machine with step-by-step procedures shown on the display.
ONE Touch Top Milk also offers the option of uploading and customizing screensavers, running promotions to boost your business, displaying images or videos as drinks are served, and teaching baristas with educational videos.