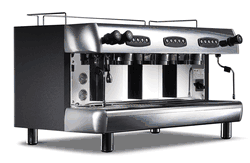 An elegant design on this espresso machine combines a metallic curved front with diamond black sides.
Features
Pressure gauge/sight glass allows easy monitoring.
Separate independent auto back flushing allows convenient machine maintenance.
Stainless steel exchange boiler provides temperature stability.
Hot water and steam knob features two easy-to-use methods of operation.
Steam pressure release function ensures safe operation.
Boiler low water safety feature prevents machine from overheating without water.
Hot water dispensing wand.
Raised group heads fits tall, take-away cups.
Technical Info:
Boiler size: 19 quarts
Electrical: 220 Volts at 27 Amps
Power: 6.5 KWatts
Dimensions (H X W X D): 25" X 37" X 20.5"
Shipping Weight: 148 lbs.
Plumbing: Unit attaches to 0.75" hose connection, 0.5" water line required.
Water pressure between 20 PSI and 120 PSI. Use regulator for higher pressure.
Note: 4" clearance required on side and rear.